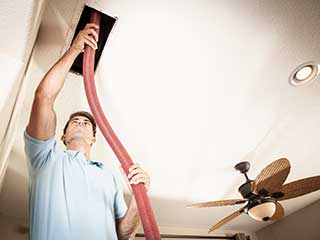 Why Get Your Air Ducts Cleaned?
Cleaning your home's air ducts may not seem like anything important, and something that can simply be pushed off until later. What's the harm? Unfortunately, there can be consequences when it comes to air quality by doing so, as well as finding your energy costs rising.
When air is drawn in to the duct to be used for heating or air conditioning over the years, dirt is also brought in and trapped inside them. This, dust, and other substances collect over time, and can easily contaminate the air that goes through and into your house. While you may think the outside air is more polluted than what's in your home, you are mistaken if these clogs aren't cleared out regularly.
What Can Dirty Ducts Cause?
If there are elderly residents, or young children, both can be negatively affected by poor air. The health risks are even more pressing for people with breathing disorders like asthma. Even allergy sufferers will find their symptoms much more aggravated, and people without any such issues will still find themselves worn out more easily.
Aside from the health issues, your energy bill is another big factor. Trying to get air through pounds of dust takes a lot of energy, which can cause rising costs. It may also affect the longevity of your system's components over time, such as the furnace, if left untended to.
Our Experts Can Handle It!
Thanks to utilizing the best tools available, our trained technicians will be able to easily dislodge the dirt build up in your ducts and swiftly vacuum it all up to be taken out of your home. We will ensure that none of the contaminates escape into your home to worsen the problem.
Call Us Now!
Don't let your family breathe in polluted air any longer! It's time to contact Air Duct Cleaning San Diego today, and let us assist you. You'll be glad that you did!