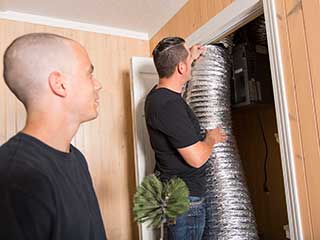 Everybody has his or her own favorite time of year to do thorough cleaning (or at least, hopefully everybody). You know what we are talking about – putting in that extra effort to reach those harder to reach places, to get rid of colonies of dust that have accumulated where a mop was last seen only in local folklore legends and to boldly reclaim their house as their own.
One of the most necessary to clean yet unfortunately seldom cleaned places is the house's ductwork. Surprised? Here are the answers to a few important questions regarding air ducts and their professional cleaning.
Why Is Cleaning Important?
The answer to that one is simple. The ductwork transports clean and fresh air to all parts of the structure and clears out used air. When they get clogged or blocked, either fully or partway, their effectiveness is compromised. When you hire professional air duct cleaning services you make sure air flows freely both in and out.
What Are Air Duct Cleaning Services?
These services describe the process of removing all vents, gaining access to the house's ductwork and thoroughly and professionally cleaning everything. This means that all debris, dust, dirt or rodents will be cleared out of the way and that the air ducts will be left completely unobstructed and clean.
When Is This Necessary?
Generally speaking, there are a few reasons for calling professionals to clean the air ducts in your home. First, enough time has passed since last you had them cleaned. How much is enough time? That's a good question. Some would say a year, some would say a couple of years. You're more than welcome to consult with us to determine the proper amount of time between cleanings according to your specific house conditions. Second, before moving into a new house. Many people want to feel, and rightfully so, that they're moving into a clean, safe house. An important part of that is having the air ducts thoroughly cleaned. Third, whenever you feel something isn't right. If a bad smell is coming out of the vents or if you suspect that your A/C system is working way too hard just to keep the house pleasant, call for expert inspection.
Contact Us Today
Whenever you require professional air duct cleaning services anywhere in San Diego, or any other related service for that matter, please don't hesitate and contact us right away.
We also offer the following services:
Industrial Duct System Cleaning